Ron Athey and the Broad Museum Present:
Gifts of the Spirit:
8 points of spatial surround
Featuring Meyer Sound Speakers and Matrix3 SpaceMap, Designer Martin Carrillo translated the multiple performance and presentational directions into zones and playing areas allowing the 3 operatic vocalists and moving artists to pan as they moved around the room.
MOOGFEST and Meyer Sound
Spatial Sound Panel Discussions
Martín Carrillo in discussion with MOOG engineers on the operation of SpaceMap and Cuestation software that provided the mathematical engine for the spatial panning at Moogfest.
BROAD MUSEUM:
Various Sound Installations and Summer Happenings
Martin Carrillo is Sound Designer for numerous Broad Events and installations throughout the year. Summer happenings like the Strange Forest event chronicled in this video bring together Performance artists, Music Acts, and Poets, curated to provide a resonance with artworks in the collection. Sound support is provided for four venues within the Museum.
The Happenings events have featured Miho Hatori, Xiu Xiu, Perfume Genius, Richard Hell, Clipping, William Basinski, Kim Gordon, Jenny Hval, Devendra Banhart and many others.
Cave: A Dance for Lilith - TheatEr Dybbuk
11.9.2012 at Diavolo
In 2012, Theater Dybbuk presented its most ambitious project to date in collaboration with LA Contemporary Dance. Penned by Aaron Henne and choreographed by Kate Hutter. An epic work chronicling the threads of feminine myths in ancient Jewish texts. Cave is at once reverent and challenging with a raw power that only dance can bring. The work featured a Score by Eric Mason, and a transformation of the Diavolo space in DTLA. Rubber "sand" created a tactile dynamic dance space. The Sound Design featured a DMitri 24 channel DMitri system and two wireless for the vocalists in the piece, plus Eric's Electric Cello, Harmonium, Ableton Samples, and various toys.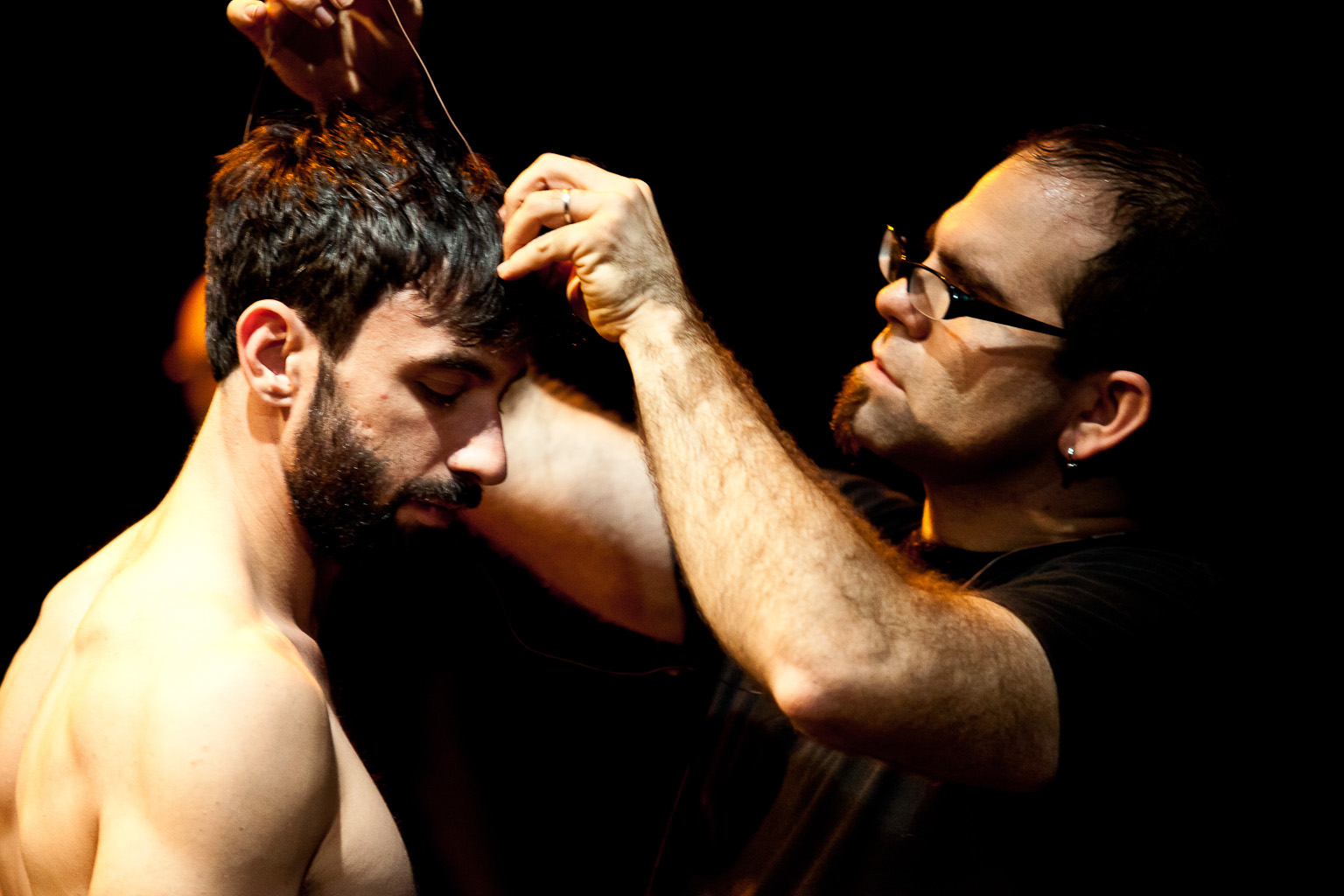 Wireless Microphone Threading
Martin Carrillo At work threading a wireless microphone for actor, Brad Culver.
Blood Red Lost Head Dead Falcon: The Nibelungen
Collision Theory:
Dir. by Aaron Henne, Sound Design and Music by Martin Carrillo
Eat Me:
Feature Film Score by Martin Carrillo